The Food for Thought Program has created a scholarship opportunity to thank all of our returning students, as well as encourage students to continue enrolling in our courses!
The scholarship amount is $500, and we intend to choose more than one recipient for the scholarship! If chosen, you will also be invited to a banquet where you will personally receive the award.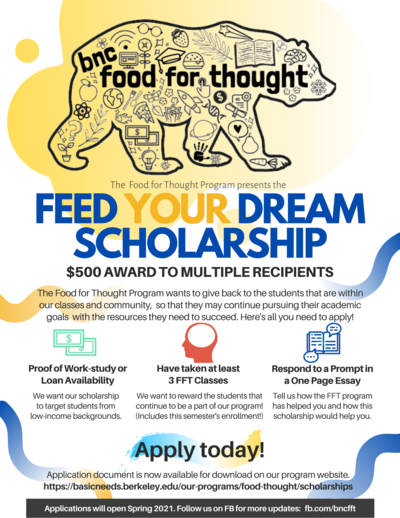 We invite you to apply if you meet the following criteria:
Have taken (or are currently enrolled in) at least 3 Food for Thought classes

Qualify for work study or loan disbursement
We also ask that you write a one page essay (~750 words) on the following prompt: "What have you learned in the courses you've taken with us, and how will this scholarship help you?"
We are not accepting applications for the Fall 2021 semester; the application period will re-open during Spring 2021! Thank you for your interest.